Introduction
---
OneNET is a public service oriented and open cloud platform, independently researched and developed by CMIOT(China Mobile Internet of things Co., Ltd.) in response to "Mass Innovation and Entrepreneurship" and the concept based upon openness and win-win. It provides easy mass connection, cloud storage, information distribution, large data analysis, and other quality services for a variety of cross-platform IOT applications and industry solutions, thereby reducing the R&D, operation and maintenance costs for the IOT enterprises and individuals (Ma-kers), who can focus more on applications, and build an OneNET centered IOT ecological environment.

OneNET platform provides relevant tools for device lifecycle management; it helps individuals and businesses quickly implement cloud management for large scale devices; it opens third party API interfaces, and promotes the construction of personalized application system; it offers customized "and" APP, and accelerates the generation of personalized intelligent applications.
Platform Architecture Diagram
---
The basic architecture of OneNET in the IOT is shown below. As the PaaS layer, OneNET establishes connection between the SaaS layer and the IaaS layer, and provides core competence of intermediate layer for upstream and downstream respectively.

Application Scenario
---
OneNet focuses on the pain points in various industries, and offers complete solutions in a variety of industries such as smart home, smart vehicle, smart wear, smart energy, and industrial manufacturing.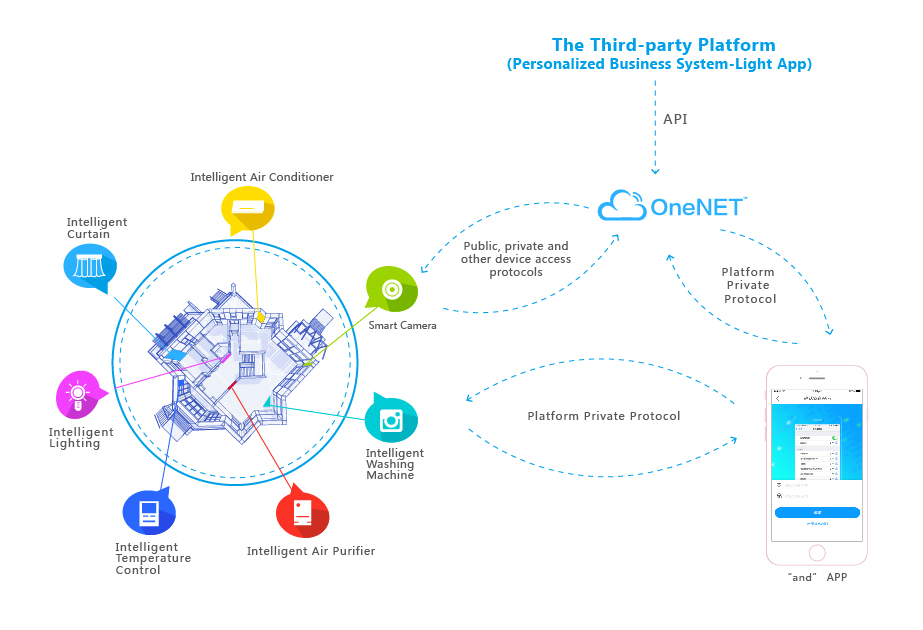 Values and Advantages
---
One-Stop Hosting—High Efficiency, Low Cost
Carrier-grade device cluster, fulfilling the needs of high-concurrent and quick access for huge amounts of device


Cloud hosting services and platform level infrastructure services, reducing cost on hardware and time

Open API interface, rapidly generating applications
Multi-protocol Intelligent Analysis—Inclusiveness, Adaptability
Supports analysis and conversion of protocols of various industry-standards, for example, MQTT, Modbus, EDP, and so on.

Adapts to a variety of network accesses and multilingual development environments

Faces the whole industry, offers full open source SDK, opens 24-hour exchange community and BBS
Data Storage and Big Data Analytics—Reliability, Safety
Distributed architecture/structure and multiple data assurance/security mechanism, providing safe data storage

Offers private cloud functional module and unique private protocol RGMP, and maximizes data security performance

Provides unified data management, rich set of data services, and intelligent data analysis; digs deep into data values
Multidimensional Support—Immediacy, Durability
Comprehensive trainings on products, technology, and marketing, full support from professional teams

Quick response time in response to customer needs and problems, and uninterrupted after-sales service support

Powerful brand; provides clients with marketing channels and continuous service capabilities, jointly construct IOT ecosphere